ARTEMIS WIDE
SOUTHERN FARM COLLECTION
PREMIUM STANDARD FEATURES
MOTORIZED UST COMPARTMENT
Equipped with our patented, motorized and automated Ultra-Short-Throw projector compartment that fits all residential projectors currently in production. But not all projectors are created equal and all have different throw ratios to make larger images like 120". Other AV cabinets must be pulled 6"-12" away from the wall to enable the UST projector to create larger images. The Artemis UST compartment is motorized and can programs easily to extend to the ideal position and retract when not in use. This enables the cabinet to be just 2" away from the wall and yet place the projector exactly where it is supposed to be.
Artemis is also equipped with a floating and adjustable internal shelf. Projectors are properly placed and cool, filtered air is fed into the air intake of the projector. Hot air leaving the projector is sucked out by exhaust fans, maintaining a perfect operating climate for the projector. Cooling directions are factory-installed and based on the projector model you intend to use.
Safety is something we take very seriously here at Aegis. So with Artemis we took extra steps to ensure that no child can be harmed when by fingers in cracks or between closing panels. Our patented "Magnetic Disengage" feature actually separates the UST compartment from the actuator motor with only 17Lbs. of pressure. Once all is clear and the motor is stopped… you simply gently slide the UST compartment back in and it will automatically re-engage.
CROSS DRILLED VENTILATED SHELVES
Aegis cabinets are designed to enable superior convection. Each shelf has 40 vents drilled to promote proper air flow throughout the entire AV compartment. This allows hot air to naturally rise, drawing in cool filtered air into the equipment resting above.
Shelves are made of ½" Baltic birch and stained black with a protective clear gloss finish. They are adjustable and have grooves that catch the shelf brackets and lock them into place to prevent from sliding when installing equipment. Access holes along the back of the shelf make it easy to zip-tie wires and cables for clean wire management. Grooves in the back of the shelves allow for separate routing of power and data cables inside each compartment.
Aegis Cabinets feature a naturally aspirated cooling design that positions large air vents under the equipment. Cool air is sucked in through filters as hot air rises from the AV equipment and exits via rear exhaust vents. This creates proper air flow even with low-to-moderate heat-producing equipment.
NATURALLY ASPIRATED AND FILTERED COOLING
Aegis Cabinets come standard with a naturally aspirated cooling system that positions large air vents under the equipment. Cool air is sucked in through filters as hot air rises out of AV equipment and out of the rear exhaust vents. This facilitates proper air flow even with low-to-moderate heat-producing equipment.
PREMIUM OPTIONAL FEATURES
BUILT-IN HIGH PERFORMANCE CENTER CHANNEL SPEAKER DOOR
Since the projector uses the space normally reserved for a center-channel speaker, we had to create a better solution. Other  projector cabinets lower the center-speaker compartment below the projector compartment. This doesn't work well because sound now shoots under the coffee table. But we have an answer….
Aegis partnered with Next Level Acoustics and patented the first ever high-performance built-in speaker door. The specially designed speaker is mounted inside the door, extending just 1.35" into the projector compartment. This allows the center speaker to be properly placed in front of the projector inside.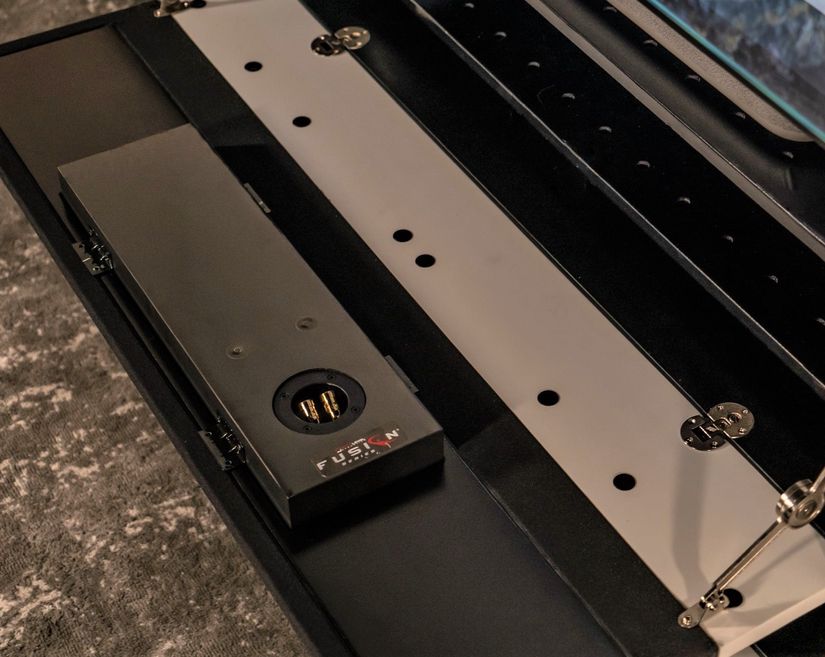 16 U'S OF ADDITIONAL RACK MOUNTING
Rack mounting is also available in the lower section of the cabinet. 16 U's of front, and 16 U's of rear facing rack mounting allows you to utilize this space with shallow depth equipment and maximize your space. Zone B is naturally aspirated and can be upgraded to a filtered cooling system. Equipment is accessible by way of the tailgate style soft-opening access door.
BUILT-IN HIGH PERFORMANCE SPEAKER DOORS
Ever wish you could conceal the left, center and right channel speakers without worrying about installing in-wall, in-ceiling, or having big bulky bookshelves/tower speakers? Aegis has the answer.
Thanks to the advanced shallow speaker design from Next Level Acoustics, Aegis cabinets provide stunning Left, Center, Right soundstage with completely hidden high-performance speakers. No more installing speakers or even running speaker wires with the patented Aegis built-in speaker door. Speakers are mounted inside the door and extend only 1.35" into the left and right AV compartments. The result is a broad, detailed soundstage - from speakers that are truly out of sight.
REAR AMBIENT RGBW LIGHTING
Create a scene with illumination effects to go along with mood or complement a special occasion.
Choose from 3 million colors and several lighting effects
FRONT AND REAR RACK MOUNTING
The Aegis rack mounting system helps organize your equipment and is the preferred technique among AV integrators. Mounted to high-gloss black, aluminum rails, we've increased the breathing room between equipment for better air flow.
We offer not only front, but also rear-facing rack mounting for shallow depth equipment and lacing bars. Wire management is built in as well. That closet wasn't made for an ugly AV rack! Aegis Cabinets can safely hold and provide cooling for more than 40 U's of AV equipment safely, beautifully and more effectively.
DIGITALLY CONTROLLED FILTERED SMART COOLING
We don't just add fans to cabinets, we've carefully engineered where to place our fans to promote optimal natural convection. Cool air is sucked through the filters in the air vents below equipment, and hot air is exhausted out. This allows your equipment to be pushed to its limits, deliver its full potential and last longer.
Each AV compartment has foam weather stripping that seals the AV compartment from sucking dust in through door gaps. Simply set the temperature threshold to maintain optimal climate inside the sealed compartment that only sucks air in through the filters below.
Each compartment is individually controlled and monitored with a temperature probe. Aegis uses premium ultra-low dBm fans that are optimally placed to exhaust heat and reduce noise. The Smart Feature takes noise reduction a step further and slowly increases the RPM's of the fans only as needed as the AV compartment temperature climbs to the temperature threshold.