Audio Video Cabinet integrates functionality and style, taking your home entertainment setup to new heights. Selecting the right cabinet is crucial in creating a seamless multimedia experience that complements your space. Well-designed cabinets also contribute to the overall aesthetic appeal of a room or entertainment area. 
In this blog, we'll provide you with a comprehensive guide on choosing the ideal audio-video cabinet that seamlessly combines functionality and style.
Incorporating your devices and coordinates with your decor are essential considerations. By considering these factors, you can improve your multimedia experience and make sure everything looks good together.
The Importance of Audio-Video Cabinets in Optimal Equipment Performance
The wide range of diverse designs, finishes, and styles not only enhances aesthetics but also complements your space, efficiently organizing equipment and creating an appealing and user-friendly setup.
Audio video cabinets are essential for effectively organizing and managing audio and video equipment in diverse environments, including homes, offices, schools, and entertainment venues. Explore the reasons that highlight the importance of audio-video cabinets:
Audio video cabinets are versatile, scalable solutions for accommodating equipment setups and adapting to future system changes.
AV cabinets ensure equipment protection by creating a secure, clean environment that safeguards delicate audio & video gear, promoting long-lasting performance.
With adjustable shelves, removable panels, and easy-to-reach doors, this setup allows for effortless customization of AV gear, hassle-free maintenance, and a more convenient setup.
AV cabinets enhance performance through convection and regulated temperature control within sealed compartments equipped with filters.
The wide range of diverse designs, finishes, and styles not only enhances aesthetics but also complements your space, efficiently organizing equipment and creating an appealing and user-friendly setup.
How to Choose the Best AV Furniture for Your Home Theater
When selecting av furniture, there are several aspects to consider, including size, material, design, and functionality. Here are a few more details about each factor: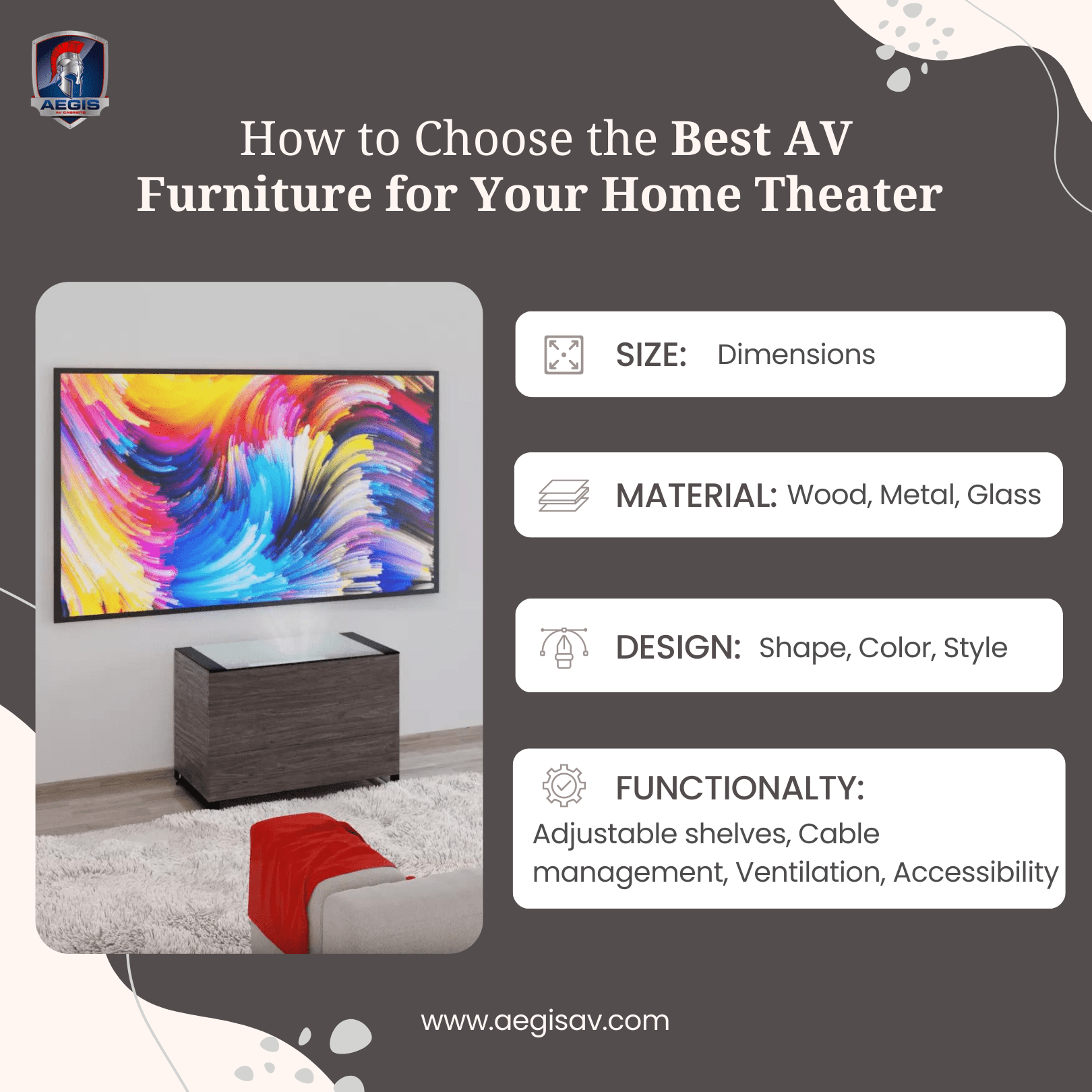 Size: Choose a cabinet that fits your space by considering its dimensions, including height, width, and depth, ensuring it accommodates your audio/video components without overcrowding or obstructing furniture/walkways.
Material: When choosing materials for an AV cabinet, one must consider both the visual appeal and long-lasting quality. Wood provides a timeless elegance, while glass contributes to a modern and polished aesthetic.
Design: The design of the cabinet influences the overall aesthetic of your setup, so consider elements like shape, color, and style. Whether you prefer traditional or minimalist, choose a design that aligns with your personal taste and complements your room's existing decor.
Functionality: The functionality of the av cabinet is crucial for an efficient setup. Look for features such as adjustable shelves, cable management systems, ventilation options, and accessibility.
Exploring the Powerful Features of Modern Audio Video Cabinets
When it comes to creating an immersive and organized home entertainment experience, modern audio-video cabinets have become essential. Aegis AV Cabinets offer a range of powerful features that enhance functionality, convenience, and aesthetics. Here are some key factors to consider:
PREMIUM STANDARD FEATURES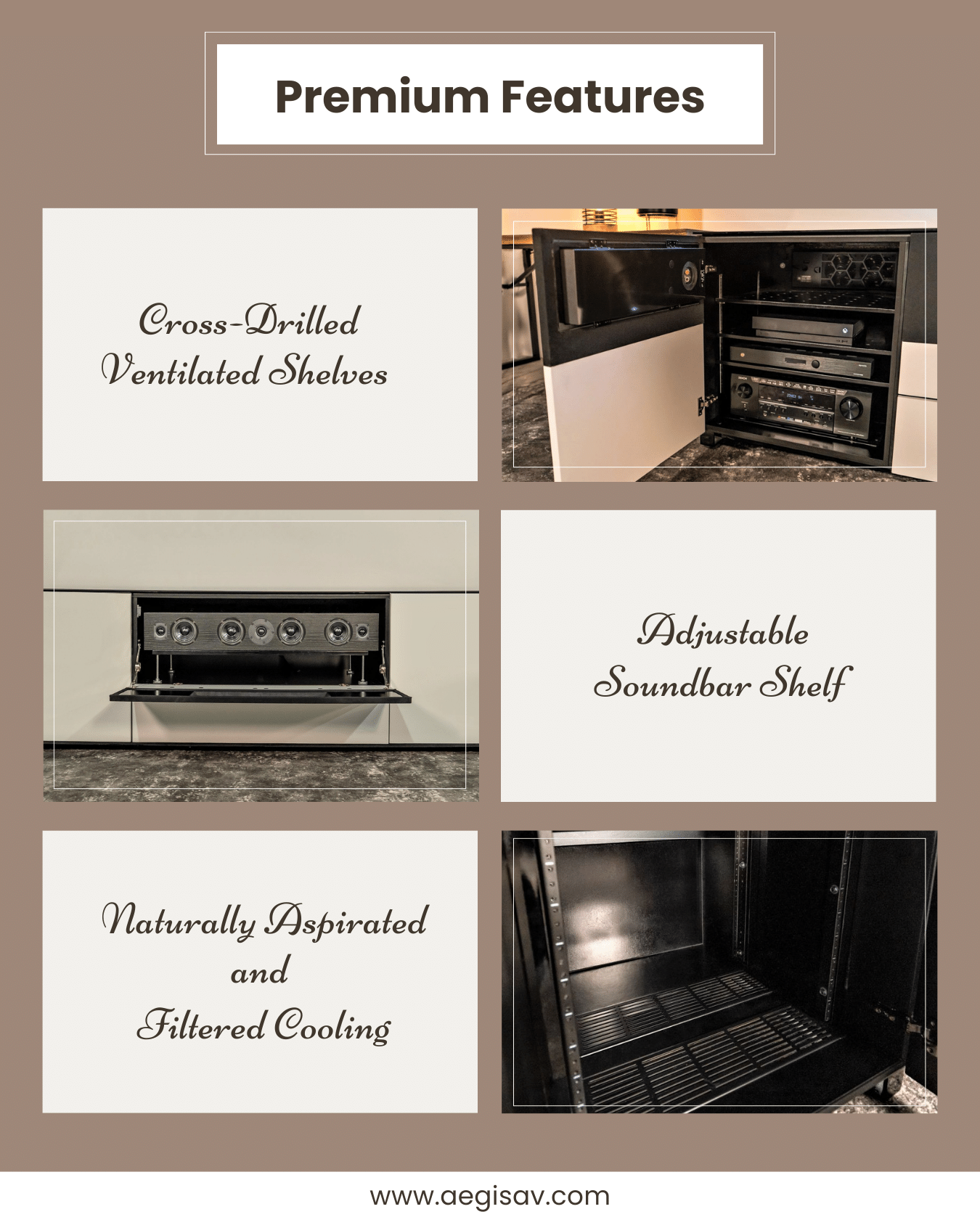 Adjustable Soundbar Shelf:

Aegis AV Cabinets provide a dedicated center audio compartment with adjustable shelving for sound bars and center channel speakers. There is also extra space below for organizing and customizing your AV components.
Cross-Drilled Ventilated Shelves:

With a focus on airflow optimization, Aegis AV Cabinets feature 40 drilled vents per shelf, adjustable ½" Baltic birch shelves, and strategically placed wire management access hole
Naturally Aspirated and Filtered Cooling:

Aegis features

a standard cooling system with air vents beneath the equipment, ensuring proper airflow for effective cooling.
PREMIUM OPTIONAL FEATURES
Built-In High-Performance Center Channel Speaker Door:

Aegis's partnered with Next Level Acoustics to patent a high-performance built-in speaker door for projectors, placing the center speaker in front of without sacrificing space or sound placement.

16 U's of Additional Rack Mounting:

Aegis AV Cabinets provides 16 U's of front and rear-facing rack mounting for shallow-depth equipment, along with Zone B's natural airflow and optional filtered cooling. Easy equipment access through a soft-opening door.

Built-In High-Performance Speaker Doors:

Aegis AV Cabinets conceal left, center, and right channel speakers with Next Level Acoustics' shallow speaker design and built-in door, delivering a hidden high-performance sound stage without speaker installation or wires.

Rear Ambient RGBW Lighting:

Enhance any setting or occasion with customizable illumination effects that perfectly match the mood or complement special moments. With a selection of 3 million colors and multiple lighting effects, create the perfect ambiance for any situation.

Front and Rear Rack Mounting:

Aegis's rack mounting system offers organized and ventilated storage with black aluminum rails, front, and rear-facing mounting, wire management, and lacing bars for shallow-depth equipment. Holds over 40 U's of AV equipment with style and safety.

Digitally Controlled Filtered Smart Cooling:

Aegis AV Cabinets optimize cooling with strategically placed fans, foam weather stripping, and temperature control. Enjoy superior heat reduction and noise management for optimal equipment performance.
Aegis AV Cabinets: Protecting Your AV Furniture from Damage
Proper airflow is vital for AV equipment's longevity and performance. Heat builds up when there is insufficient flow, leading to damage. Aegis's av furniture excels with cross-drilled shelves, ventilated design, and exhaust fans, ensuring continuous air circulation. This prevents overheating and protects components from harm.
Stacking equipment, a common trend, may seem convenient but is ill-advised. It traps heat within the core, resulting in internal overheating and damage. Engineered heat is trapped due to reduced ventilation from stacked components, obstructing exhaust vents.
Aegis's av furniture combats dust accumulation, enhances heat dissipation and prevents electronic failure with seals, dust guards, and filtered fans. These attributes enhance durability and maximize the performance of home electronics.
In conclusion, when selecting the ideal audio video cabinet for your space, it is essential to consider both functionality and style. Functionality factors, such as proper ventilation, cable management, and storage capacity, ensure optimal performance and organization. A cabinet that allows for adequate heat dissipation is crucial to prevent equipment damage. Moreover, considering the style of the cabinet is important to create a cohesive and visually appealing look that complements your space. Whether you prefer a modern, sleek design or a more traditional and elegant style, finding a cabinet that blends seamlessly with your decor is key. By carefully balancing functionality and style, you can choose the perfect audio video cabinet that enhances your space and provides a satisfying entertainment experience.